Description
Benzalkonium chloride BKC 80% is an aquatic chemical widely used in the treatment and disinfection of ponds and lakes, suitable for many different soil conditions and widely used and trusted by people.
Product information
Product Name: Benzalkonium chloride BKC 80%
Other names: BKC, Santreat Mz 3080
Chemical formula: C6H5CH2N(CH3)2RCl
Origin: India
Specification: 200kg/Drum
Product appearance: White or yellow-white liquid, easily soluble in water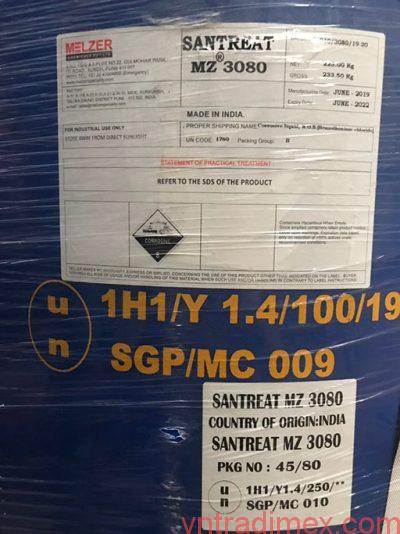 Benzalkonium Chloride BKC 80% Santreat Mz 3080 Aquatic Chemicals
Application
Benzalkonium chloride BKC 80% has a wide range of applications especially in the fisheries, water treatment and veterinary industries.
The typical uses of BKC 80% are as follows:
– Extremely effective in killing bacteria
– Kill common pathogens such as bacteria, protozoa, fungi in ponds, helping to improve water quality
– Safe for shrimp, does not cause shock or long-lasting in the pond. In small doses, BKC also stimulates shrimp molting.
– This is the best chemical disinfectant for farming tools, nursery tanks, effective industrial water treatment.
– In aquaculture ponds, BKC 80% has the effect of controlling the growth of algae.
– BKC 80% is also used effectively to control bacterial diseases in ponds caused by groups of bacteria Edwardsiella, Vibrio, Staphylococcus, and Aeromonas.
– In addition, BKC 80% is also used to disinfect cattle and poultry houses.
User manual
Depending on the purpose of use, each type will have different dosages:
– Cleaning farm, tools and equipment in hatcheries: 1.5 – 2mg/l
– Treating water in settling ponds, disinfecting ponds before stocking: 1liter -800/m3 of water, 3 days before stocking
– Treatment of caudal disease, in gills in shrimp and fish caused by bacteria. Disinfect pond, pond bottom, dose: 0.3 -0.5 ppm. Reduce dosage with shrimp fingerlings and fry.
– Periodic disinfection of pond water: 1 liter is used for 2,000 -4,000 m3 of water, treated once every 2 weeks.
Note: The dosage used is for reference only and may vary depending on the environment and water source.
If you want to find out, please contact us for the most detailed and specific advice for each dose.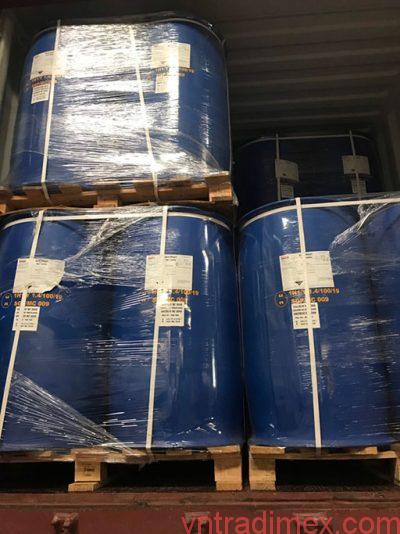 Note when using
– Keep out of reach of CHILDREN
– Wear protective gear when working. If splashed into eyes, immediately wash with clean water, then promptly seek medical attention at the nearest ophthalmology address.
– Best used in hot afternoon sun. When using, should use occupational safety protection to ensure health, avoid direct contact with skin, especially eyes.
– Using BKC 80% too much will cause residues, reducing the value of shrimp farming
– In the period of shrimp less than 10 days, if periodically disinfecting, only iodine should be used to limit the use of BKC bacteria. Because at this stage, shrimp are sensitive to strong biocides
– In ponds, there are often many organic substances, dirty pond water reduces the effect of drugs. Should be combined with protectol to increase the effectiveness of drug disinfection
Preservation measures
Store in a cool, dry place, the temperature should not exceed 30 degrees Celsius, avoid direct sunlight.
Are you worried about the condition of ponds and low productivity aquatic products? Are you looking for a chemical product that is both good and affordable to solve the pond situation? Do you feel bewildered when there are too many fakes, poor quality imitations on the market? Let us help you.
VNT Chemical Company specializes in providing high quality, tested 80% Benzalkonium chloride BKC. With many years in the profession and enthusiastic staff. VNT Chemical Company is proud to bring satisfaction to all customers.
Contact us for detailed advice and to receive many attractive offers.
Rating BENZALKONIUM CHLORIDE BKC 80% SANTREAT MZ 3080 AQUATIC CHEMICAL
Filter by:
All
5 Star
4 Star
3 Star
2 Star
1 Star
There are pictures (

0

)