Description
Gibberellic Acid (GA) is an important plant hormone, used for plant growth, flower and fruit stimulation. Join Vntradimex to learn more about gibberellic products, GA3 in the following article
Product information
Chemical name: gibberellic, GA3
Formula: C19H22O6
Appearance: White powder
Introduce:
C19H22O6 – GA3 or gibberellic acid, this is an organic acid known as a hormone that exists in plants.
Gibberellic acid naturally occurs in plants, however commercially when crystallized, Gibberellic Acid GA3 is a white powder. Gibberellic Acid GA3 is soluble in ethanol and slightly more soluble in water.
GA3 structure.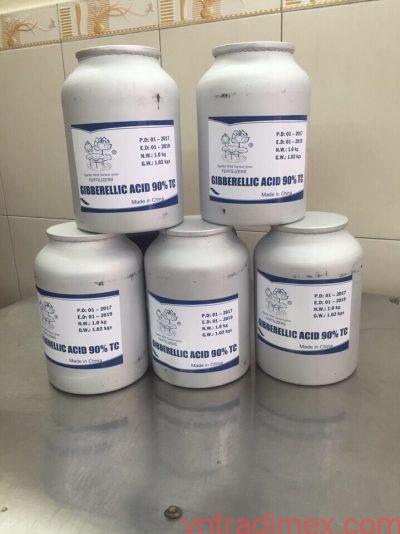 Hóa chất Gibberellic Acid GA3
Application of chemicals
Gibberellic Acid GA3 is a single hormone in plants. This hormone has the effect of promoting cell division to grow horizontally and vertically quickly. Stimulated cell division causes the amount of cells produced to increase, accompanied by growth. on the external morphology of the tree, creating the necessary height and width development for the tree.
For seeds in the germination stage, gibberellic acid helps seeds quickly grow roots and synthesize proteins quickly thanks to rapid cell division because genetic information is fully spread to cells. This creates the foundation for the quality of the fruit in the following stages.
Because of its ability to stimulate and control plant division and growth, Gibberellic Acid GA3 is also used in biotechnology to stimulate plant and tissue germination in greenhouse conditions.
Using Gibberellic Acid GA3 for plants in a small dose as a step to create hormones, supplementing hormones helps plants develop quickly in external form, develop leaves, bloom and create seeds... and vice versa if If overused, Gibberellic Acid GA3 will have the side effect of decomposing organic components in the plant - this is not good for the plant.
Preserve
Cool, dry place
Rating DISTRIBUTION GIBBERELLIC ACID – GIBBERELLIC ACID – GA3 – C19H22O6
Filter by:
All
5 Star
4 Star
3 Star
2 Star
1 Star
There are pictures (

0

)