Description
In agriculture, Calcium Bo has many applications and is often used for fruit trees. Calcium Bo is an imported fertilizer that is used a lot in agriculture and is loved by many people
Product information
– Product Name: Calcium Bo
– Other names: Calcium Nitrate Bo
– Content: N 15.5%, Ca 19%, Bo 0.3%
– Origin: Europe
– Specification: 25kg/bag
– Product appearance: Granular, easily soluble in water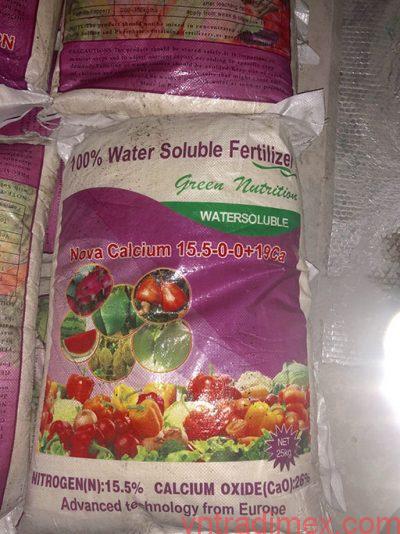 Premium genuine Calcium Nitrate Bo
Advantage
– Produced on the most modern technology today.
– Nitrogen is in the form of nitrate, fertilizer is easily soluble in water, so plants can easily absorb it.
Uses
– In agriculture, calcium boron has many applications, and is often used for fruit trees.
– Provide calcium, nitrogen, and boron in a form that is easily absorbed by plants, enhancing the quality of agricultural products, and increasing crop yields.
– Helps harden trees, limit fall, enhance resistance to pests and diseases, withstand adverse weather from the environment.
– Helps the formation and differentiation of flower sprouts, increasing the number of flowers. At the same time increase the vitality of pollen grains, increase pollination, increase fruit set, reduce young fruit drop.
– Prevents against fruit cracking, fruit rot, fruit rot, fruit melasma, deformity, and helps synthesize proteins, lipids, increase sugar and vitamins in fruits and vegetables.
– With rice, it helps to increase the quality and quantity of seeds, limiting the phenomenon of flat seeds.
– Nurturing flowers, fruits, tubers and seeds: large, beautiful, long-lasting flowers; fruits and tubers are large, firm, have beautiful colors and are juicy; Seeds are firm, smooth, bright yellow.
– Less damaged during long-distance transportation, longer shelf life of agricultural products.
– Help improve soil effectively such as reducing alum, desalination, detoxifying organic matter, preventing soil degradation, restoring soil structure to make soil aerated, good water permeation, reducing iron (Fe), aluminum poisoning Al) and manganese (Mn).
– Calcium boron helps to increase the effectiveness of other fertilizers such as phosphorus, Molybdenum (Mo), and increases the absorption of potassium by plants.
– Calcium Nitrate Bo increases soil pH, inhibits the growth of pathogenic fungi in the soil, (pathogenic fungi run around, swollen cabbage roots, rapid death of pepper, tomato wilting, citrus fruit cracking , durian…etc).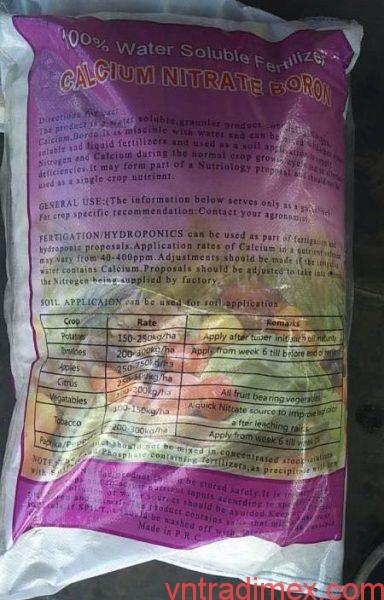 Calcium boron provided at VNT chemical with top quality reputation
User manual
There are many methods of using calcium boron fertilizer effectively. You can apply it directly or dissolve it into the root water.
In addition, mixing with organic fertilizers or NPK mineral fertilizers also helps to increase the effectiveness of fertilizers.
For each crop, there are different doses of calcium boron:
First time: 10-15 days after planting
Second time: 10-15 days before flowering 20-30 kg/ha/time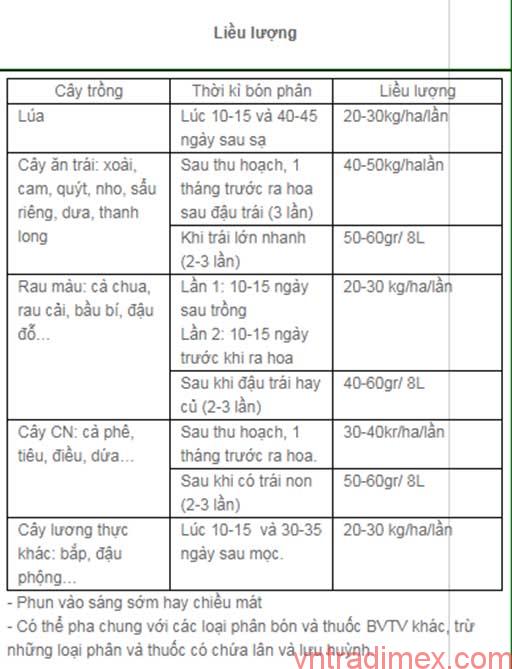 Instructions for using Calcium Bo
Preservation measures
Store in a cool, dry place away from direct sunlight.
You need to buy the best Calcium Bo at an affordable price but don't know where to buy. Come to our company. Vntradimex specializes in distributing high quality fertilizers with famous brands in the world. With the criterion of always putting the interests of customers first, we are committed to always quality products, with the best prices on the market today.
VNT chemical company with many years of experience and enthusiastic staff, always brings satisfaction to customers. Especially when using products at Vntradimex, customers are always consulted and receive many attractive incentives.
Rating GENUINE IMPORTED CALCIUM NITRATE BO FERTILIZER
Filter by:
All
5 Star
4 Star
3 Star
2 Star
1 Star
There are pictures (

0

)