Description
Nova Potassium aka Nova Potassium is a fertilizer that presents a 5:49 (21) N,K(S) balance, an ideal alternative to high potassium and lower nitrate addiction. The product's technical characteristics make it particularly suitable for the irrigation of potash fertilizers, even in irrigation water with a high calcium content.
Product information
– Chemical name: Nova Potassium fertilizer
– Formula: SO3
– Packing: 25 kg/bag
– Product appearance: Granular, easily soluble in water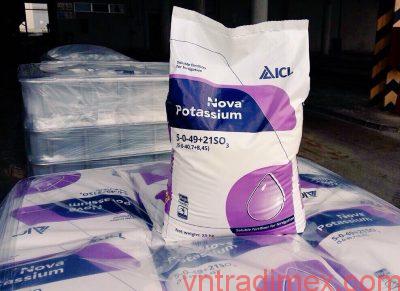 Advantages of fertilizer Nova Potasium
– N: K is more balanced than potassium fertilizers for fertilizing.
– Manure suitable for the preparation of solutions with water with calcium content.
– Potassium fertilizers with low salt index reduce undesirable effects in plants by salt concentration.
– High solubility, even in hard water conditions.
User manual
Carefully read the manufacturer's instructions on the packaging
Preservation
Store in a cool, dry place, avoid direct sunlight and avoid contact with chemicals
Are you looking to buy Nova Potassium fertilizer but worried because the price is too high? Are you confused when there are too many fake, fake and poor quality fertilizers on the market? Please come with us. VNT chemical company is proud of many years of experience, along with enthusiastic staff. We are always specialized in distributing high quality, tested chemicals and fertilizers. In particular, Nova Potassium Fertilizer is one of the leading products because of its quality on the market today.
Contact us for detailed advice and get the most attractive offers.
Rating PREMIUM NOVA POTASSIUM FERTILIZER
Filter by:
All
5 Star
4 Star
3 Star
2 Star
1 Star
There are pictures (

0

)