Description
Potassium Sulphate, also known as SOP fertilizer, is a pure drip irrigation fertilizer, containing easily absorbed pure potassium. Potassium Sulphate has the chemical formula K2SO4. Fertilizers provide several important benefits over other types of potassium, helping farmers produce high-quality agricultural products as well as protecting the environment. Find out more details with VNtradimex in the following article.
Product information
Product name: Potassium Sulphate
Other names: quick-dissolving potassium – SOP – SOLUPOTASSE, Potassium sulfate
Chemical formula: K2SO4
Origin: EU, Belgium
Specification: 25kg/bag
Product appearance: Potassium Sulfate (K2SO4) under normal conditions is a white, non-flammable crystalline solid salt. Soluble in water. Commonly used as a fertilizer, providing both potassium and sulfur.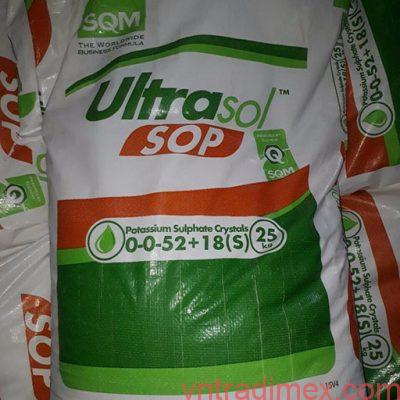 High quality Potassium Sulphate chemical imported from Belgium
Ingredient:
– K2O: 54%
– S: 18% (so3 : 46%)
Application of SOP fertilizer
– Increase fruit set, prevent young fruit from falling
– Increase fruit weight and quality, increase sugar, flavor, beautiful color, and strengthen seeds
– Increases resistance to drought and pests
– Limit rust, leaf spots, pink fungus, powdery mildew, and spider mites
– Supplement potassium deficiency for plants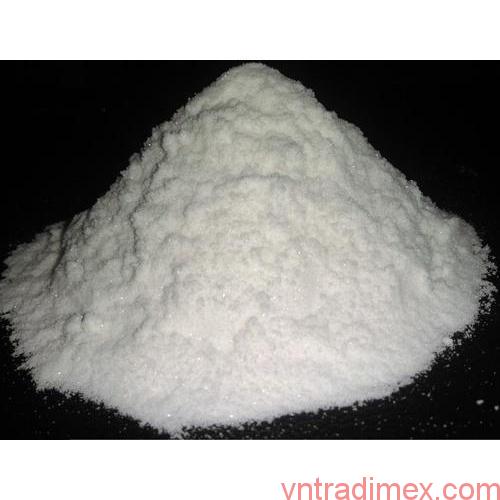 Bonded K2SO4 fertilizer
Instructions for using Potassium Sulphate effectively
| | | |
| --- | --- | --- |
| Crops | How to use | Function |
| Rice, corn | 40 - 50g/ 16 liters of water, sprayed 7 days before flowering and 7 days after flowering. | The effect is to help rice bloom evenly and simultaneously, harden the plants, and make the seeds large, yellow, bright, and heavy. |
| Melons of all kinds and beans, peppers, tomatoes | 30 - 50g / 16 liters of water, spray before flowering and after young fruit set. | Increases sweetness, beautiful color and increases productivity |
| Fruit tree | 40 -50g/16 liters of water, spray evenly on leaves. Spray from the stage of fruit formation until harvest, spray 2-3 times and spaced 15-20 days apart. | Helps the fruit not to rot, helps the fruit grow faster, increases aroma, sweet taste, more beautiful color and increases productivity. |
| Industrial plants | 40 -50g/16 liters of water, sprayed 7 to 10 days before flowering and 2-3 times after young fruit appears. Spray every 10 - 15 days | Increase productivity, grow fruit quickly, and increase flavor. |
| Vegetables of all kinds, root crops | 25 - 25g/ 16 liters of water, sprayed every 7 - 10 days. | Helps leaves stay green and tubers grow quickly, increasing productivity and quality of agricultural products |
Preserve
– Keep in a dry, cool place, avoid direct sunlight.
– Keep out of reach of children and away from water sources
Rating KALI SULPHATE (K2SO4) – PREMIUM SOP FERTILIZER
Filter by:
All
5 Star
4 Star
3 Star
2 Star
1 Star
There are pictures (

0

)