Description
Copper EDTA with full name is Ethylenediaminetetraacetic acid is a micronutrient providing high quality trace copper. Copper is an important factor to help the growth and development of plants comprehensively
Product information
Product name: EDTA copper
Chemical name: Ethylenediaminetetraacetic acid, copper disodium complex EDTA-CuNa2.
Other names: Edta Cu, copper chelate, Cu chelate, trace copper.
Chemical formula: C10H12N2O8CuNa2
Density: 397.7
pH = 6-7
Solubility: 99%
Appearance: blue powder, well soluble in water
Packing: 25 kg bag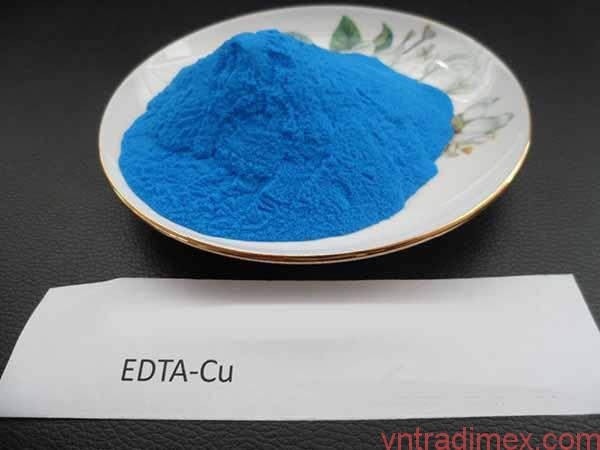 Product appearance Edta Cu
Application
Copper EDTA is used as a fertilizer providing trace amounts of copper for all crops. Copper promotes the oxidation of ascorbic acid, and activates oxidase, phenolase and plastoxyanin enzymes. Cu helps regulate yeast reactions and is an important catalyst for plant oxidation-reduction reactions.
Copper chelate plays a key role in nitrogen metabolism, protein synthesis and hormone synthesis to increase plant quality.
Involved in photosynthesis and respiration.
Helps to form pollen grains and fertilize, increase the rate of flower and fruit set.
Edta Cu helps to increase the resistance of plants to adverse conditions such as weather, pests and diseases. Especially used as an effective antifungal medicine.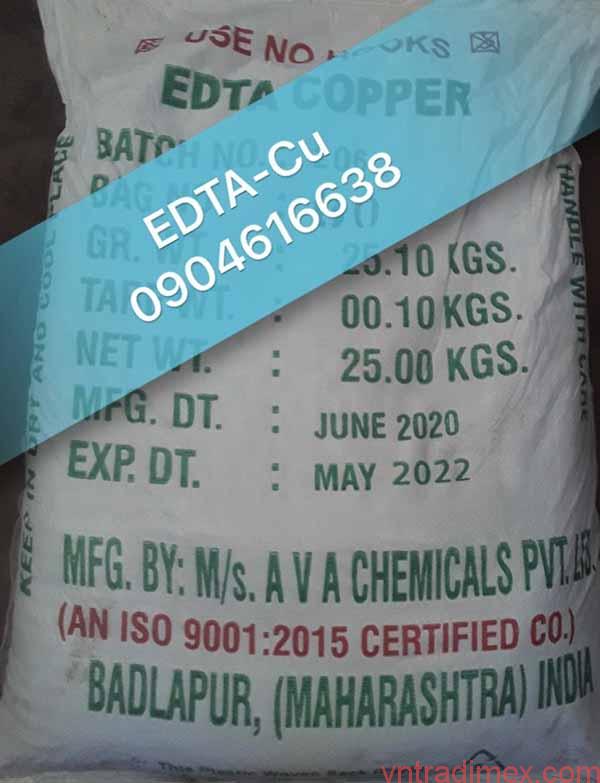 Edta Copper Micronutrient Fertilizer
Methods of preservation
Store in a cool, dry place, away from direct sunlight.
Where to buy premium copper EDTA?
VNT Chemical Company is a leading company providing high-grade copper EDTA, clear origin and strictly tested. VNT Chemical is always proud to be a company with many years of experience, satisfying every customer even the most demanding. We have a team of enthusiastic and highly qualified staff who are always available 24/7 to answer all customer questions and provide detailed product advice.
Contact us for more details and great deals.
Rating EDTA Copper – Chelate Copper (Edta Cu) – High quality trace copper
Filter by:
All
5 Star
4 Star
3 Star
2 Star
1 Star
There are pictures (

0

)