Description
Potassium Humate is an advanced organic fertilizer that helps improve soil structure, increase nutrient absorption and enhance agricultural products. Join Vntradimex to learn more about the product Potassium Humate 8-10% in the following article
Product information
Potassium humate 8 -10% (Potassium Humate)
Product Name: Potassium Humate 8-10%
Other names: Potassium Humate, Potassium Humate.
Appearance: Black fine crystalline powder
Total Content: 85%, 90%, 95%, 97%
Humic Acid content: 60%, 65%, 67%, 70%, 72%…
K2O content: 8 – 10% min
Specification: 25kg/bag
From China
Describe
Potassium Humate (K-Humate) is obtained by alkaline mining of lignite or brown coal or leonardite and is used commercially as a soil conditioner.
Potassium Humates are widely distributed macromolecules of organic substances in nature, widely used in livestock, petroleum, chemical industry, construction materials, medicine and health, environmental protection. field and other fields, it has been proven that human life and existence cannot live without humic acid.
Potassium Humate is an effective organic potassium fertilizer. It can improve fast-available potassium content, reduce potassium loss and fixation, increase crop to non-absorption and utilization rate. It also has soil improvement, promote crop growth, increase crop resilience, improve crop quality, protect the agricultural ecological environment, and other functions. It with urea phosphate, potassium, mixing, trace elements can be made into effective multi-functional fertilizer raw materials.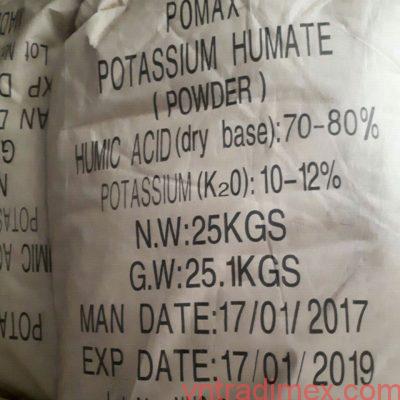 Types of Potassium Humate fertilizers
K-Humate powder form
K-Humate waving form
K-Humate granules
K-Humate pencil lead form
Supper Kali Humate tan 100%
We are known as exporter and manufacturer of top quality Super Potassium Humate, Potassium Humate Crystal, Potassium Humate flakes, Potassium Humate powder which are created using best quality raw materials. Potassium Humate can be applied by drip, spray or soil treatment. Potassium Humate flakes as well as powder encourage the release of enzymes by the plants as well as increase the growth of proper yeast, algae and also other microorganisms. Potassium Humates enhances the buffering properties of soil.
Uses of potassium humate fertilizer
+) Potassium Humate increases soil retention or retention capacity to hold water with extended fertilizer use.
+) Potassium Humate increases the effectiveness of fertilizer, by preventing leaching too far from the root zone and eventually releasing it into the root zone when fertilizer is needed
+) Potassium Humate helps reduce soil erosion by increasing the cohesion of soil particles which is a good fertilizer
+) Potassium Humate changes the physical and mechanical properties of soil in structure, color, consistency and moisture holding capacity to a very large extent as increases in organic matter and fertilizer.
+) Potassium Humate increases the permeability of plant cell membranes, enhancing the absorption of nutrients more effectively than fertilizers
+) Potassium Humate improves the soil environment so that it is optimal, which is necessary for the continuous growth of different groups of beneficial microorganisms.
+) Buffers problem pH, allowing plants to adapt better, until the pH can be corrected.
+) Reduce deterioration stress, until it can be corrected.
+) Increases seed germination through improved soil CEC levels.
Features & Advantages of 100% soluble K-humate fertilizer
+) Improve soil structure. Increases soil exchange capacity.
+) Stimulates biological activity in the soil.
+) Enhance resistance to soil stress, especially reducing high salt in alkaline soil.
+) Enhance the absorption of nutrients and increase humus content in the soil.
+) Reduces the toxicity of pesticide residues and prevents soil contamination of heavy metal ions as well as other harmful problems.
+) Improve physical and chemical properties of soil.
+) Plant growth stimulant, promoting root development and stimulating seed germination.
+) Enhance nutritional absorption by incorporating nutrients and humic acids and keep a well-balanced diet.
+) Effective fertilizer promoter.
+) Significantly improve nitrogen fertilizer use efficiency.
+) Holds 60% of available nitrogen and 40% is slow release.
+) Enhance the recovery ability of plants. such as cold, drought, pests, disease and overthrow resistance.
+) Promotes healthy, stronger plants and improved appearance.
+) Potassium is an important component of chlorophyll, increasing the speed of photosynthesis.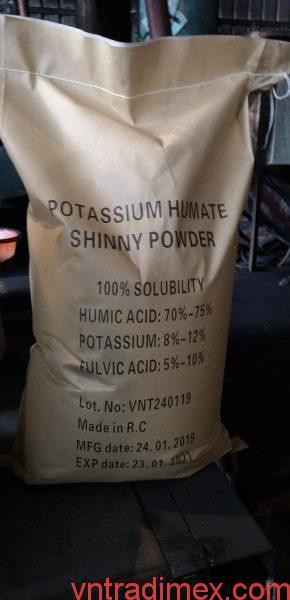 Application in agriculture
+) Potassium Humate is an effective organic potassium fertilizer. Because humic acid is a kind of biologically active substance, it can increase the content of rapidly acting potassium in the soil, and reduce the damage and compaction of potassium, increasing the absorption and utilization of potassium.
In addition, it can improve soil structure, promote crop growth, increase crop resilience, improve crop quality, protect the agricultural ecological environment and other functions. When it is mixed together with urea, phosphorus, potassium fertilizer, trace elements, we can get effective multi-functional complex fertilizer.
+) Potassium Humate & Humic Acid products manage plant growth, stimulating plants to produce their own beneficial hormones naturally. By enhancing nutrient uptake and hormone production through your plant's roots or leaves, Potassium Humate products help increase flowering, budding, fruit set, fruit size and maturity. This helps you deliver improved crop quality and yields, leading to more uniform growth and consistent size.
+) Directly used as potassium fertilizer for spraying, seed soaking, root dipping etc. Potassium Humate is a kind of high efficiency organic potassium fertilizer, its active content humic acid and fulvic acid can improve the number soil potassium availability, reduces damage and immobilization of potassium, and increases potassium uptake and utilization by plants. Compare with other potassium fertilizer, it can improve fertilizer utilization 87%-95%. Improve the quantity and quality of cro The product can be used as foliar fertilizer, specialized fertilizer and drought resistant fertilizer.
Biological benefits:
+) Stimulates the growth and development of beneficial organisms in the soil (algae, yeast, bacteria, nematodes and symbionts)
+) Enhances root initiation and improves root growth
+) Accelerate seed germination
+) Regulates hormone levels in stressed plants
Preserve
Cool, dry place
Rating POTASSIUM HUMATE CHEMICAL – PREMIUM HUMATE POTASSIUM
Filter by:
All
5 Star
4 Star
3 Star
2 Star
1 Star
There are pictures (

0

)